For 34 years, the Stormy Weather Arts Festival on the first weekend in November has been one of Cannon Beach's most popular events. You can immerse yourself in the creative culture that has long been a part of this community recognized as one of the 100 best art towns in America. The weekend offers musical performances and gallery events with the opportunity to meet renowned artists, see their latest works or watch them demonstrate their techniques.
Enjoy a variety of safe gatherings, artist demonstrations, paint classes, and catch free live musical performances with regional musicians at outdoor venues throughout the town.
Cannon Beach is home to over a dozen art galleries. Many of their most successful national and regional artists, as well as prominent local artists, will be showcased during the festival.
A weekend full of art gallery events, receptions and guest artists throughout town.
2021 Schedule Includes, but Not Limited To:
Friday, November 5th
SWAF Paint & Sip | 6:00 pm – 9:00 pm
Paint with Benjamin as he walks you through a stormy weather inspired creation of your own! Location: Chamber Community Hall Cost: $40
Saturday, November 6th
Music Around Town | 11:00 am – 5:00 pm
Locations: Coaster Theatre Courtyard, Kiki's Courtyard, Sandpiper Square, The Landing
SWAF Paint & Sip | 6:00 pm – 9:00 pm
Paint with Benjamin as he walks you through a stormy weather inspired creation of your own! Location: Chamber Community Hall Cost: $40
Friday, Saturday, Sunday
Gallery Showings Around Town
A weekend full of art gallery events and guest artists throughout town.
Check the Chamber website for the latest updates on additional weekend events. Quick link to event page.
Thank you to our sponsors Bronze Coast Gallery, Jeffrey Hull Gallery and The Wine Shack.
Featured Festival Artist: Randall David Tipton
Randall David Tipton had his first solo show at White Bird Gallery in 1987, over the past 30 years the artist has developed a highly original painting style that stems from improvisation within the familiar. The long-time Portland artist uses landscape as a guiding orientation in his paintings, creating scenes based on the artists experiences in various places he has visited.
Randall David Tipton works in both oil and water media. He studied under Richard Diebenkorn in 1985 in the masters class at the Santa Fe Institute of Fine Art. His work is included in several prominent collections such as the U.S. Embassy in El Salvador and Newsweek.
Event URL: www.cannonbeach.org/swaf
"Coastal Nocturne" ©
Original will be on display at White Bird Gallery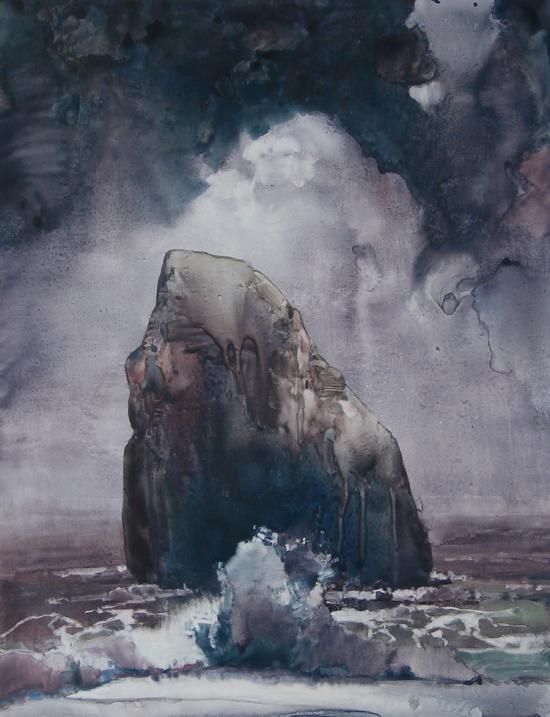 "Cannon Beach is committed to the continued health and safety of everyone in our community"
In an effort to continue the Stormy Weather Arts Festival and respect the safety & well-being of all our attendees every measure is being made to have a safe event.
Gallery Events
Erik Abel
Bold colors, geometric patterns, and botanical profiles capture the eye in Erik Abel's artwork. Inspired by his love of the ocean, surfing and travel, Abel's work articulates the spirit of the water and awe of nature. His roots as a California surfer intermingle with his experiences living in the Pacific Northwest as well as traveling to the South Pacific and Central America, imparting an organic, tribal style to his subjects and compositions. Upon a closer look, Abel's graphic imagery unfolds to tell the story of his paintings. Accents peak through unexpectedly revealing the layers of color Abel cloaks in each piece while loose strokes of colored pencil and marker create dimension. Abel now lives and works a few steps from the Pacific Ocean in Northern Oregon.
Seth Vandable
Seth strives to capture the quiet strength and dignity of mankind in his compositions. His detailed working knowledge of human anatomy has eliminated the need for models, making each sculpture a truly original creation. "I am always inspired and amazed by the people around me, becoming increasingly convinced that every individual I meet is truly a marvel in their own environment. My sincere wish is that through my work, people will recognize their own heroic nature. May they find hope through a sense of connection to all souls conquering life's changes…reaching for the same dreams…succeeding with integrity and beauty."
Linda Prokop
Sculptor Linda Prokop is not middle-of-the-road; she is passionate. She shares her spirit with us and exposes her deepest feelings: "The source of my imagery is rooted in my emotional response to the beauty of the world and a fascination with common, everyday occurrences. Many of my sculptural themes relate to the human condition of struggle and perseverance. I believe that to isolate to the essence of an emotion or event is the most powerful form of expression. The most exciting outcome of this imagery is that it becomes cross-cultural and universal in meaning."
Hans Schiebold
At the age of fourteen, Hans already knew that a pursuit in an artistic career was a serious consideration for him. He moved in 1982 to Portland, Oregon and began painting full time and displaying his work in galleries across the west. "I have always placed an emphasis on being a painter with a different look; hence my emphasis on materials and tools which are different. The medium is the carrier of meaning in itself; to me, the how is more important than the what."
Wood, Paper, Fire
Saturday, November 6 from 4:30 to 6:00 PM will be hosting an artist reception and will take place during our "Wood, Paper, Fire" exhibition which will be on view from Nov 3 – Nov 28, 2021. This exhibit features work by Judy Hoiness, Icefire Glass Work, Shu – Ju Wang, Woodland Shrine, and Nathan McKee.
Joanne Shellan
Joanne Shellan's talent as a painter is complimented by her natural gift as a storyteller. Her paintings capture human stories and perspectives with a rich color palette and wonderful brushwork. Each moment captured is both universal and familiar.
Doug Hansen
Doug Hansen's mixed media artwork reimagines the concept of windows on the natural world. His wall hung oil paintings take on a sculptural form and incorporate natural elements, inviting us to view nature in a new and thoughtful way.
Kathy Hastings
Kathy Hastings' photo encaustic panels present the meeting points of the natural and manufactured world with visual poetry. Through abstracting the patterns of boat hulls on the waterline, and the ephemeral movement of birds, the artist reveals the beauty of stillness.
Deb Steel
Deb Steel's contemporary jewelry is wearable sculpture. Influenced by both nature and culture, Deb's designs are a visual and tactile delight of pattern, texture, and form. Each fine silver piece is an artistic statement, sculpted from precious metal clay and frequently augmented with 24K gold, semi-precious stones, and glass.
Jim Kingwell
Jim Kingwell was born and reared in Portland, Oregon. He attended Willamette University in Salem, and Portland State University. He majored in ceramics, with a particular interest in design and silicate chemistry.
In 1971, he began blowing glass when he and a partner built a hot glass studio on the Oregon coast. They used recycled glass and discovered ways to alter its colors and properties. In 1974, Jim began making glass from its raw ingredients.
What began as a five-year experiment evolved into a life-forming fascination. Jim's work has appeared in shows and galleries throughout the Northwest, and he has pieces in all 50 states and in more than 40 countries. His work offers a stunning array of colors and forms.
The Icefire Glassworks logo incorporates the alchemical symbols for earth, air, fire, and water, honoring the linkage of art and science. Says Jim, "Glass offers all the physical and mental challenges that one could hope for in a life of creativity."
Suzanne Kindland
Some years ago, Suzanne Kindland dreamed she was suspended in a pillar of fire. By turns in the flame and of it, she danced to its rhythms.
Shortly after that, she began an intense search for her medium. She raced from her office job to chorus practice, to theater rehearsals, to volunteer work with a local arts association. Then it was on to Portland to see a friend who was sculpting marble. She wondered what it would be like to be more intensely involved with the arts, to not simply watch art being made, but to make her own.
"In the way that soft thoughts have of becoming solid, life presented me with a chance to do just that: to explore form, to learn color, to play with fire in a way that is anything but peripheral.
Dancing in the flames, I learn the ways of glass.
Coaxing rather than forcing, with the glass as my partner, we bring forth objects reminiscent more of water than of fire: cool, smooth forms that reflect light as a pond does, sculptures that bend the light as a ripple does, quiet creations that transmit the light as does the stillest pool."
Mark Gordon
Mark Gordon began blowing glass in 2003. His first experience with the medium was at Icefire Glassworks in Cannon Beach, Oregon, and he now lives and works in Bend, Oregon. His current body of work is focused on blending colors and balancing them with individual forms. The challenge of combining colors in different ways, and working with a hot and fluid medium, keeps every day of working with glass new and exciting.
"Jim Kingwell and Suzanne Kindland were my first mentors in glass. I never imagined what glass had in store for me. It has shaped my life over the last fourteen years, and created a sense of accomplishment and pride in myself and the work I create. I currently work with Michelle Kaptur, another great friend and mentor."
Jeffrey Hull
Jeffrey began his painting career over 40 years ago as a resident of the beautiful coastal art community of Cannon Beach, Oregon. Although primarily self taught, he studied with three Northwest Watercolorists in the early 1970's and just kept painting. Known for his ability to capture the beauty and moods of the places where water joins land, Jeff controls the difficult medium of watercolor, often in very large paintings. After many years of painting watercolor exclusively Jeff returned to painting in oil as well in 2006. He is rarely found far from the ocean's edge, the source of his inspiration. His deep love for the area is clearly seen in his original paintings and prints.
In 1987 after many years of displaying his artwork locally, Jeff and his wife Carol opened their own gallery. Located on the second level of Sandpiper Square in the heart of downtown Cannon Beach, the gallery features exclusively the work of Jeffrey Hull. His representational work is displayed in the form of Original Watercolors, Oils, and Giclée Prints.
Randall J. Hodges
Randall J. Hodges has been capturing images of the Western United States and Canada as a full time professional photographer for over 20 years. Most of his work comes from time spent hiking and backpacking the wilderness areas of the West where he had has hiked and photographed over 33,000 trail miles. Randall's work has been published over 4,950 times worldwide in books, magazines, calendars, greeting cards, post cards, newspapers and much, much more. Randall has won countless awards for his photography. Randall does not alter his work in any way and considers himself an "All in Camera Shooter" as he spends the time to wait for the right light and color and uses "Old School Techniques" rather than post-processing to capture his remarkable images.
Georgia Gerber
She usually works in "Idaho Buff" – a water-based clay commonly used for pottery. She likes the softness and fluidity of this material, which allows her to work quickly and expressively. It is common that she has two sculptures underway at any time – often a large commissioned piece and a smaller edition piece. She does not like to focus on one sculpture for too long at a sitting, and so moves back and forth between sculptures for fresh perspectives.
Georgia seldom draws or makes models before beginning a piece. Her ability to visualize in three dimensions lets her start right in by piling blocks of clay into the general form. Most sculptures, even the largest ones, are solid clay with minimal armature support. This gives Georgia flexibility in making changes as she proceeds.
On the subject of completion, she is fond of saying "Much of art is knowing when to stop".
Laura O'Brien
A Contemporary Painter working in oils and acrylics . Her Paintings of Haystack Rock and the natural wonders of Oregon are celebrated and collected nationally.
Ivan McLean
Ivan McLean is a leading Public Sculptor including clients: Nike, World Trade Center in California, Nines Hotel in Portland. His "Red Sphere " & "Re Invention" are a landmark for the NW By NW GALLERY Sculpture Garden, located in downtown Cannon Beach. His works are in bronze, steel, wood and glass.
Hazel Schlesinger
Hazel Schlesinger shares her enthusiasm for life and the natural world. Works range from traditional to abstractions of oceanscapes. Winner of the 2017 Plein Air & More People's Choice Award. Her oil paintings are seen around the world in movies, TV series, commercials and publications including Southwest Art Magazine.
Christopher Burkett
Christopher Burkett's authentic film photographs are represented in many permanent Museum Collections including: The Portland Art Museum, Houston Fine Arts Museum, Boston Fine Arts Museum, and the Nelson Atkins Museum of Fine Arts in Kansas City.
Ann Fleming
Ann Fleming's figurative bronze sculpture is inspired by an artistic narrative on myths and legends of life's journeys, the great shared stories of our lives. Her bronzes range from small depictions to significant Public Sculpture. Her Public Sculpture "Midori" celebrates spring and rebirth.
Angelita Surmon
Angelita Surmon is an accomplished painter and glass artist. She captures the color, rhythm and movement alive in nature. Her series, "Refuge" reflects the imagery of the seasons. Her visionary paintings explore abstraction and representation, using acrylic paints with dynamic assuredness and knowing brushstrokes.
Valerie Savarie
Valerie's unique process of cutting, painting and sewing transforms vintage books into delicate wall sculptures.